During this period of uncertainty surrounding COVID 19, staycations are becoming increasingly popular amongst Brits. If you aren't already aware of the term, a staycation is a holiday within your own home country. With no worries over quarantine periods and air travel, why not explore the many beautiful locations the UK has to offer?
Being centrally located, Derbyshire is easily accessible for a family holiday or getaway. With the Peak District on its doorstop and many major cities within a short drive, you won't be short of stunning scenery, outdoor activities, and attractions for all ages. See our list of local attractions and nearby towns for recommendations.
What kind of staycation are you looking for?
Hiking, climbing and water sports are available around our venues. The Peak District is a hot spot for outdoor activities, with the Derbyshire countryside offering plenty of opportunities for cycling and walking holidays. For outdoor enthusiasts Standlow or Shiningford are perfect, with walks right from your doorstep, and water sports and cycling just 5 minutes away at Carsington Water. See our family holiday pages for local walks and trails.
A huge benefit of travelling within the same country is that your pooch doesn't have to be left behind. Standlow, Shiningford and Ashbourne Hall are all pet-friendly, so you can book in your dogs for £20 each.
Knowing that families are all wanting to come together for post lockdown stays, we have on offer larger properties that will enable you to have exclusive use. If you all want to be in one property, check out Ashbourne Hall or Hollywood House; or for venues that allow individual families or friend groups to have their own cottages, Standlow is the ideal location for you.
The Derbyshire countryside is a fantastic backdrop for a relaxing getaway. Most of our venues have hot tubs, and BBQ's so that you can soak up the fresh air and picturesque views and Standlow offers fire pit areas for 'toasting marshmallows' . We also have  a page dedicated to local suppliers who will deliver or allow click and collect, that make your UK holiday safe & stress-free.
Here at Ashbourne Self-Catering we have put in measures to help you feel secure for your stay. Where possible we are ensuring there is at least a 24 hour window between guests, but in some cases this is not possible.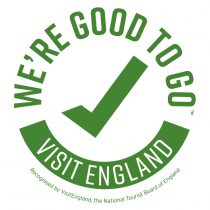 These are the precautionary measures we are carrying out in between each booking:
Open all windows to allow air circulation around the property.
Dust, sweep or vacuum all floors. Clean or mop hard surfaces (such as walls and flooring) with water and soap. Dish-wash all dishes and cutlery.
Spray chemical disinfectant on doorknobs, light switches, and cabinets, and spray high-touch surfaces in each room with a disinfectant spray.
Steam clean or spray sanitiser on beds, sofas and other soft furnishings.
When finished sanitising and resetting a room, close the door and disinfect the doorknob. We safely dispose of or wash cleaning supplies and protective gear.
Empty and sanitise the vacuum cleaner after every clean.
At Standlow – we have separated off the front terraces of the cottages with planters and shrubbery. We have divided the rear garden for High View Grange and Foxglove Cottage. We have provided sanitisers in the games room and children's play area, and we wash these areas daily when we have guests sharing the facilities. We wash the outdoor furniture and BBQs between each guest visits. Games, leaflets & CDs, and throws and scatter cushions have been removed from each cottage during this period.
At Shiningford – we have separated the pool garden to enable The Stables & Manor guests to each have their own pool garden and furniture to relax safely. The accommodation, hot tub, BBQ etc is cleaned after each guest stay. Games, leaflets & CDs and throws and scatter cushions have been removed from each cottage during this period.
At Ashbourne Hall – The terrace furniture, BBQ and hot tub is cleaned before each visit. Games, leaflets & CDs , throws and scatter cushions have been removed from Ashbourne Hall during this period.
At Hollywood House – The terrace furniture, BBQ, hot tub and spa pool are cleaned before each visit. Games, leaflets, and some decorative items have been removed from Hollywood House during this period.