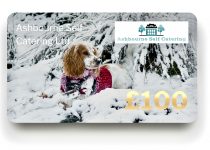 Looking for the perfect Christmas gift?
Give someone special a gift they can look forward to.
Experience a staycation in the beautiful Derbyshire Dales
Our vouchers can be used towards a stay in one of our cosy country cottages, Manor house with stunning pool, our new eco lodge or a taste of Hollywood glamour!
Just choose the value, add your e-mail address and print!  Valid for two years
Choose your voucher and dream of a winter wonderland, Easter break or long summer evenings!
Explore and Book your unforgettable experience with us today!